SKU:VRP05
Regular price
Sale price
$400 USD
Unit price
per
Sale
Sold out
These were woven as floor pillow covers (one side is flat Kilim woven and the the other side is eight pile or Jijim weaving). They were all woven in the 20th century with the best hand spun wool available in these areas, because they were woven to impress the looking eyes. Every region has its unique way of weaving (soft, hard, bright colors or dark colors). This one was woven in a town called Konya.


DIMENSIONS
Width: 19"
Height: 36"
MATERIALS
Wool.
About Our Carpets

Hi, My name is Max Önder, and I am the proud owner and founder of Karavan: Treasured from Turkey. My journey in the U.S. began over 30 years ago in the late '80s when I was brought from Turkey to Philadelphia as an expert in vegetable dyes and antique rugs by George Jev.  and Prof. Henry Glassie (who was the head of the American Folklore Society).

After successfully helping to grow George Jev's carpet business, I decided to pursue my own passion for rugs. I wanted to specialize in one-of-a-kind antique village, tribal, and dowry rugs, as well as, newly produced rugs made in traditional styles with hand-spun wool and natural or vegetable dyes. As economies shift and urbanization takes hold in Turkey and the greater Middle East, handmade production of this caliber of carpets has been in decline. Our unique collection includes some of the last pieces of beautiful and practical, ancient art.

All of the rugs you can find on our site are hand-knotted in the traditional form, which includes wool on wool or wool on an organic pre-washed cotton base. These styles of carpet weaving make the rugs incredibly durable and the natural vegetable dyes resist color bleeding. The wool in our rugs is not bleached and has been washed multiple times during their production. Some of the much older antique rugs may have some repairs on the edges and fringes may be restored.

Some details about production:

1. These rugs were woven vertically by pulling the knots down. As a result, if one looks against the pile (the direction the rug was knotted) it looks darker, however, from the opposite direction the rug looks lighter. This effect can be more or less pronounced depending on the lighting.

2. The specialized knotting technique used to produce these rugs requires small hands and therefore are typically woven by women, while men tend the sheep, sheering and dying the wool.  This is a great source of income and helps improve create gender equality in pay to Turkish villages. Importantly, children's hands are not utilized in the production of these rugs, and child labor is strictly forbidden in Turkey.

3. Larger antique rugs were mostly commissioned by local dignitaries or Europe's affluent class. As such, the materials used in these rugs are of the highest quality.

4. Many of our newer rugs were directly commissioned by me in the mountainous villages of Adiyaman and Malatya. In this way, I was able to have direct oversight on the production process, materials, designs, and fair compensation for the workers involved.

5. For those of you who may have allergies to carpets, it is important to know that none of our rugs contain wool that is bleached. The chemicals used in bleaching wool are what cause a majority of carpet related allergies.

6. Your rugs hand-washed by a professional or spot cleaned by you.

It is important to remember that each rug has history and meaning behind each symbol, color, and design. I love to talk about my pieces so please reach out to me for further details on any of my carpets. 
Care Instructions

Your carpets should always be cleaned by a professional. Our recommendation is to look for someone who cleans antique handmade carpets, or call us to see if we can help find the right professional in your area.

For spot cleaning, you may use Resolve or Hoover Oxy deep products. Just spray the spot lightly and blot it out with thick paper towel. Do not over do it. Warning that sometimes the red dye bleeds. 

In general, regular vacuuming should do the job. If there are no major accidents on the rug, cleaning is not required on a yearly basis.
Quality Assurance

We stand behind the quality of our products 100%.

We are proud to say that almost all of Karavan's products are handmade and sourced from the best producers in Turkey. Some of our antique rugs are sourced directly from families on a person to person level. We establish strong relationships and care deeply about not only the quality of the materials, but the people behind it.

Because most of the products are uniquely one-of-a-kind, we encourage you to call if you have questions. If there's ever an issue with purchased item, simply call or email and we'll promptly address the problem and make it right.
Share
View full details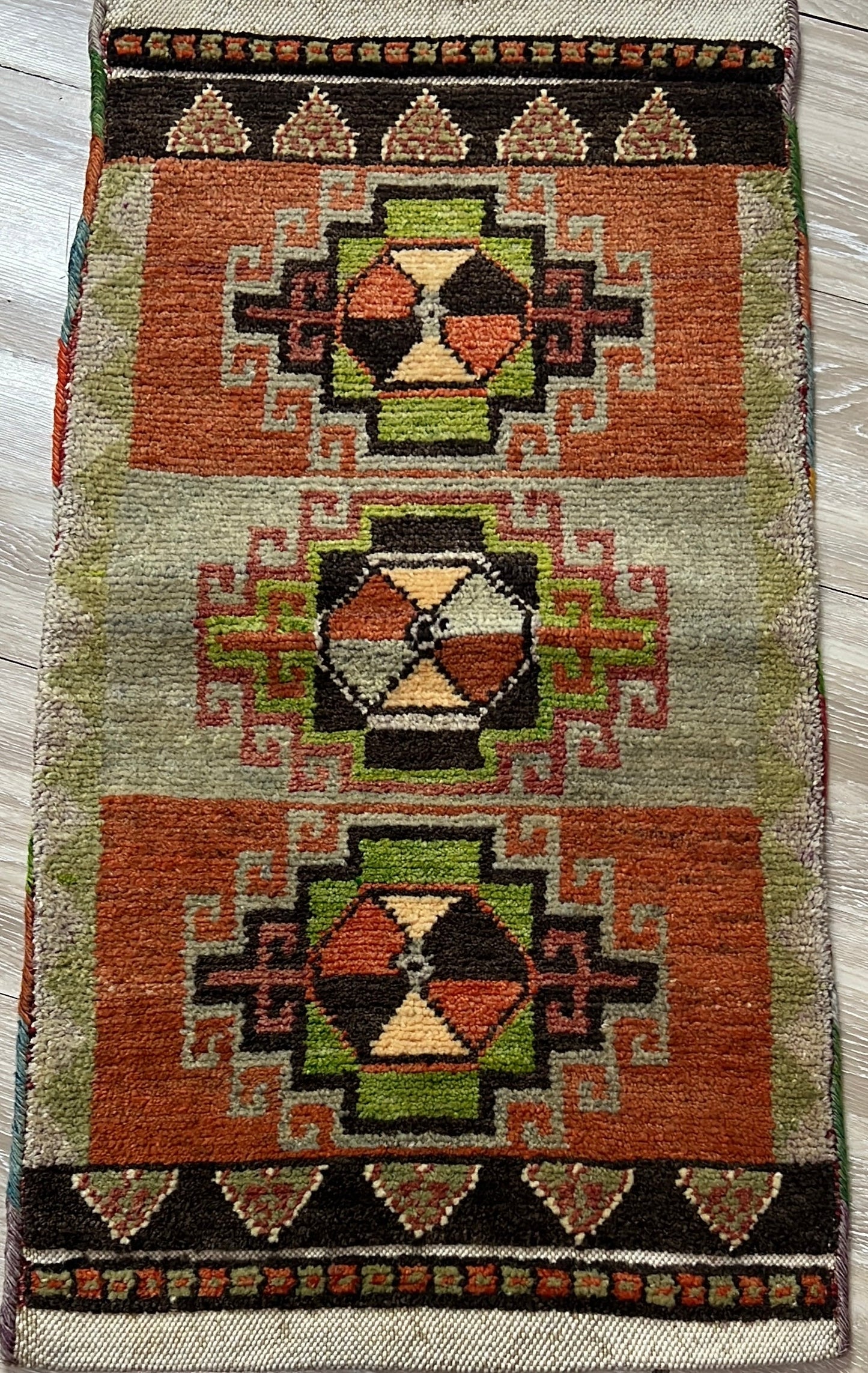 Have Questions?
CALL
For immediate assistance 410-279-1711. Mon - Sun 10:00am - 7:00pm EST
CHAT
Via the chat window (bottom right). It may take us a few minutes to reply
EMAIL
info@treasuresfromturkey.com. We will reply within 24 hours